Synology brings IT mentality to surveillance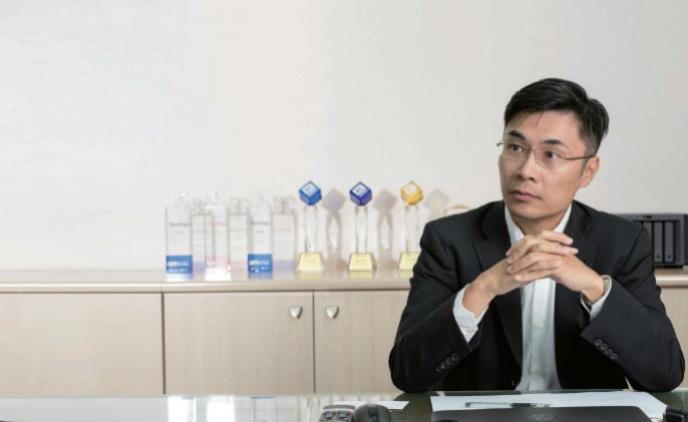 Synology, a well-known network attached storage (NAS) provider, is now being highly recognized by the video surveillance industry for its easy-to-use user interface and software features. What sets Synology apart from other competitors in the video surveillance field is that the company provides not just a NAS server, but also the video management software (VMS) which runs on all Synology NAS. This all-inclusive system of NAS servers with pre-installed VMS is Synology's main offering to the market.
James Chen, CEO of Synology, explained this strategic approach, and the changes that the company has observed in the video surveillance industry since Synology launched its first management software for surveillance in 2009, saying: "IP video surveillance has become mainstream in the security industry. Over the past ten years, video surveillance products have become more standardized — cameras with standard interface protocols like ONVIF, codecs like H.264/H.265 and connectivity via Ethernet devices — which is very similar to the IT industry. Al l these provide good opportunities for an IT-based company, such as Synology, to grow."
In the meantime, video surveillance trends are also driving storage systems to evolve. The growing number of high-definition cameras, such as 4K and multi-megapixel ones, create enormous amounts of data to be stored and managed. On the other hand, "Big Data" is pushing the security industry to concentrate on how to access, analyze and manage security data. "So, what we also observed is that the role of the 'storage management system,' then, becomes very vital to support the future development of video surveillance. Synology, therefore, introduces a powerful storage system with very intuitive management software to fulfill the need for future surveillance," he continued.
Ensures efficient and flexible integration
Firstly targeting small and medium-sized businesses (SMBs), the company tried to design a system which can really benefit the end users. SMBs usually have higher concerns over total costs, and their technical resources and knowledge are also limited. "That is why we provide them with ready-to-go VMS, which runs on our NAS servers. The all-inclusive VMS and storage system provides high price-performance ratio and ease of deployment. With our VMS — Surveillance Station, our NAS becomes an NVR with storage capability, saving users the expense of getting the VMS and storage system separately, and providing greater integration. It also provides a number of stand-alone camera makers and systems integrators with more business opportunities," said Chen.
In addition to its system design, Synology pays much attention to its partnerships with multiple camera vendors over the years, since it understands that for systems integrators, the key factor in choosing a product or brand lies in its compatibility and technical support.
Its video surveillance systems are now compatible with 4,700 types of cameras and provide ONVIF support to ensure full integration and flexible deployment.
Offers impeccable software functions
Synology also designs some key functions that are crucial to a large scaled enterprise for it to easily manage IP cameras deployed across different geographical locations, such as the authorization of multiple accounts, high availability, traffic control, local and remote backup, recovery solution, cybersecurity, and the advanced search of recordings.
Chen said, "Leveraging our strengths in IT networking, storage and software, Synology is able to introduce the most advanced and easy-to-use VMS to surveillance, for large-scale deployments."
Stays focused on needs of large enterprises & SMBS
To better describe Synology's expertise, Chen said that in addition to SMBs, Synology also has a comprehensive portfolio for enterprises requiring large-scaled deployments.
He elaborated: "Our systems have proven very beneficial for enterprises or SMBs with chain stores or multi-site offices like banks and large retailers, which require centralized management. Normally, these markets are dominated by analog or traditional NVR devices. But now, they are starting to have a better understanding toward the benefits of using our video surveillance systems. Because Synology has a solid IT background and years of experience in surveillance, we can bring the advantages of standardization to video surveillance systems, ensuring more efficient, scalable and integrated deployments."
"Synology's CMS allows the central management of over 5,000 cameras, enabling us to target businesses that require this capability. Furthermore, for enterprises or SMBs with huge storage demands, our scalable NAS can offer storage that could be expanded up to one petabyte to support them as their business grows," he added.
Overall, this highly scalable and all-inclusive VMS and storage approach provides the best choice for its customers, especially in SMBs and largescaled enterprises for centralized management, according to Chen.
For instance, a telecom provider deployed Synology's NAS in 85 of its stores. Each of the 85 stores has its own recording server, monitoring six to eight IP cameras. In its regional headquarters, three CMS clusters were set up, along with CMS host servers and expansion units
Additionally, a major player in the semiconductor industry has deployed Synology's NAS in its data centers. Each of the three data centers has its own CMS cluster, which consists of one host server unit and four recording server units. The three clusters manage 600 cameras in total.
Eyes on Southeast Asia
Over the past few years, the company has already achieved significant growth in multiple countries across the Americas, Europe and APAC (Australia), with strong support from its local offices in the U.S., U.K. and Germany. Next, Synology would like to utilize its software strength and experience to grow even further, especially in the Southeast Asia region as it is predicted to have the most growth in IP video surveillance in the next decade.
We can tell from the Synology's IT background and the future trends of physical security that the company is staying on the right track to deliver what users really need for video surveillance. With this, we can foresee a promising future for the company.