Hikvision launches thermal cameras for visually-challenging applications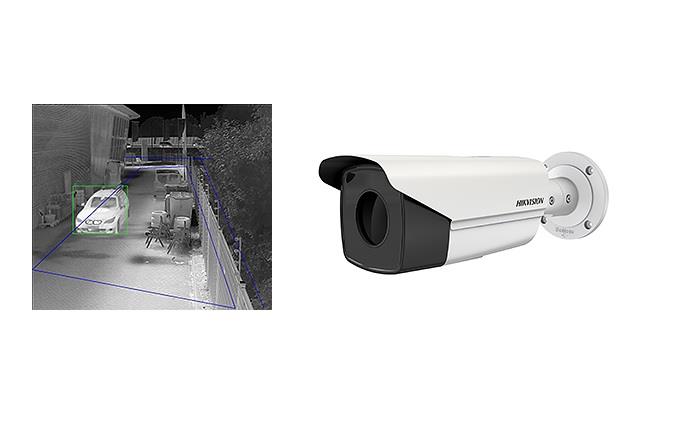 Continually seeking to push technology forward in high-end surveillance markets,
Hikvision
announces new thermal cameras. All objects with a temperature above absolute zero emit some degree of thermal radiation. This kind of radiation, which is not visible to the human eye, can be detected by thermal sensors. Hikvision thermal sensors remain unaffected by darkness or fickle weather conditions such as rain, fog, or snow. These cameras make a great platform on which to build more efficient 24/7 surveillance systems.
Superior images
Thermal products carry surveillance abilities that traditional visual imaging alone is not able to provide. Integrated with their self-developed thermal imaging module, Hikvision thermal cameras capture vivid, high-resolution HD video of moving objects at resolutions up to 640 x 512 pixels, unhindered by either darkness or inclement weather. These cameras also offer greater detail for post-event investigation.
Hikvision thermal cameras feature three innovative functionalities in image quality enhancement: auto gain control, digital detail enhancement, and 3D digital noise reduction.
The Auto Gain Control (AGC) adjusts the dynamic range of the image to make the picture retain helpful permeability; Digital Detail Enhancement (DDE), based on an algorithm for a region of interest, renders more detail in the on-screen image; and 3D Digital Noise Reduction (DNR) further minimizes the influence of "hot pixels", making images even sharper.
Smart functions
Equipped with onboard video analytics, Hikvision thermal cameras boast a full quiver of "smart" features, including line crossing detection and intrusion detection for perimeter protection. Additionally, temperature-anomaly and fire detection effectively help prevent fires, structural hazards, and many other threats to persons and property.
Thermal imaging is critical in open and expansive areas like borders, coastlines, and forests. They are quite at home in applications such as perimeter patrol, ports and harbors, critical infrastructure, processing and manufacturing plants, and various similar and demanding security environments.
Choice of dual lens model
Hikvision Thermal Cameras are available in single and dual-lens models. The dual-lens models add optical cameras alongside thermal cameras, providing thermal and standard images at the same time. This enables security personnel to better identify target objects. The optical lens helps to capture images at up to 1920 x 1080p resolution day and night. The Smart Tracking function is also available in Speed Dome model cameras.